Felicity-Franklin FFA Senior Officers Honored by Chamber of Commerce
Kyra Davidson, Felicity-Franklin FFA Reporter
Friday, May 17, 2019
On April 23, 2019, the three senior officers for the Felicity-Franklin FFA were honored at a banquet for the Salute to Leaders Award in the area of Rural Interests. The award was presented by the Clermont County Chamber of Commerce Foundation.
Seniors Bailey Lowe, chapter president, Joey Glassmeyer, chapter vice president, and Jared Hamilton, chapter sentinel, have been successful leaders of their chapter, which has been honored multiple times as a Top 10 chapter in the nation. Bailey has been an officer for three years, and Joey and Jared have each served for two years. All have been greatly successful members for all four years of high school. The three have also all been members of the state champion Grain Merchandising team and will go to the Big E in Massachusetts to compete in the Farm Business Management contest.
Joey and Jared have been national champions in the FFA Agriscience Fair together for three years in a row. Both are also top 4 state finalists in the Agriscience Research - Integrated Systems proficiency, which they will compete for at State Convention in early May. Joey served as treasurer in the 2017-18 term and is now the vice president of the chapter. Joey is a candidate for Ohio Star in Agriscience. He will be competing at National Convention in the Ag Sales contest. Jared has served as sentinel for the past two years. Both are attending University of Indianapolis on full-ride scholarships in the fall.
Bailey is currently chapter president and has served as secretary for the previous two years. She is a top 4 proficiency finalist in the state in the area of agricultural education. Bailey will be competing at National Convention in the Ag Sales contest along with Joey. She is a state officer candidate for the 2019-2020 term. In the 2018 State Food Science contest, she earned a $1000 scholarship to the Ohio State University Food Science program. Bailey will be attending the Ohio State University in the fall using her scholarship in her double major of food science and animal science.
Congratulations to these officers on their many achievements!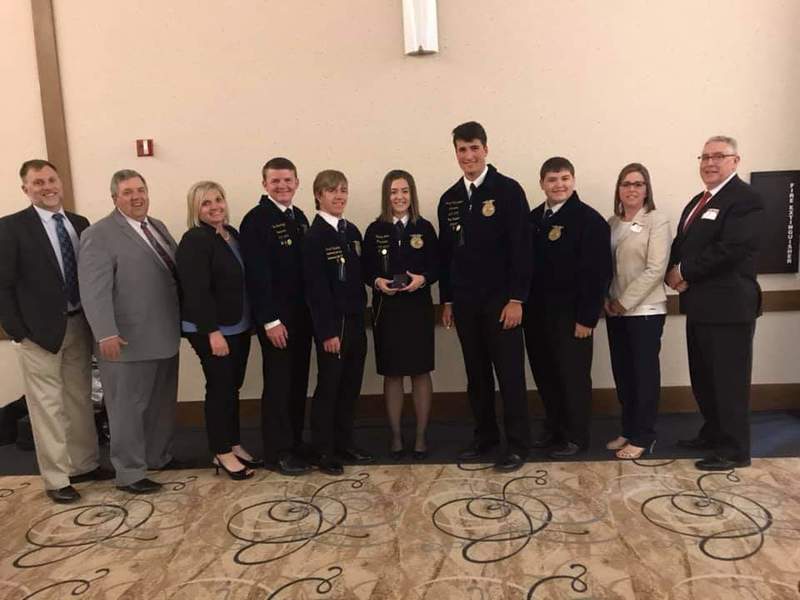 From left to right: Mr. Bob Walker, Felicity-Franklin High School Principal; Mr. Brad Ellis, Student Services Administrator; Mrs. Holly Jennings, Felicity-Franklin FFA Advisor; Luke Jennings, Felicity-Franklin FFA Treasurer; the honorees Jared Hamilton, Bailey Lowe, and Joey Glassmeyer; Landen Tull, Felicity-Franklin FFA Student Advisor; Mrs. Christy Laubach, Felicity Schools Treasurer; and Mr. Dave Gibson, Felicity-Franklin Superintendent.