Felicity-Franklin FFA Mentors Middle School Students
Emma Robertson, Felicity-Franklin FFA Reporter
Wednesday, October 02, 2019
On Friday, September 28, 2019 Felicity Franklin FFA members created and ran a leadership day for Felicity Middle School students, fostering communication and teamwork skills.
Students in fifth through eighth grade participated in the events, while split into teams by their grade level. The games varied at every station, requiring students to work together and learn how to communicate more effectively with one another. The idea for this event came from a partnership between Middle School Staff and FFA members. The Middle School teachers wanted the kids to have a fun day while also learning leadership skills. When they came looking for older students to run the events, they naturally decided FFA members were the perfect ones for the job. FFA teaches leadership skills, and FFA members are well versed in leadership games, learning them from camps, conferences and lessons in the classroom.
After every activity, groups took time to circle back and talk about what skills they learned or developed in the game and how they are useful in other situations. The idea is to have the students play the game and then realize that what they are doing is useful and important. The games weren't only fun for the middle school students; the FFA member mentors had fun too! FFA member Carly McClure says, "The kids were fantastic to work with, and games like these are always my favorite to play. It's really amazing because you know you are teaching them skills they need for life and the kids are having fun at the same time." FFMS Leadership Day was a success all around. Students had a last day of fun in the sun before fall sets in, and grew as leaders in the community.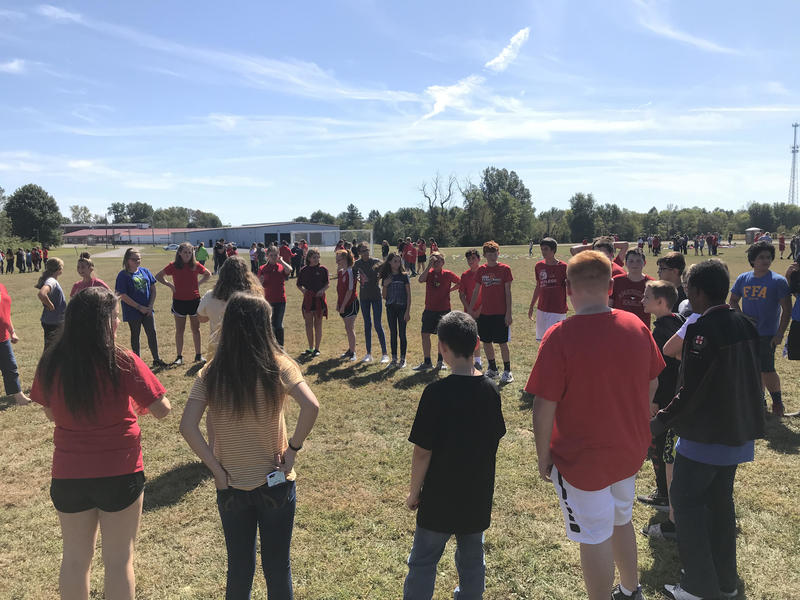 Caption: Students participate in Pulse, a game that cultivates concentration and performing under pressure.