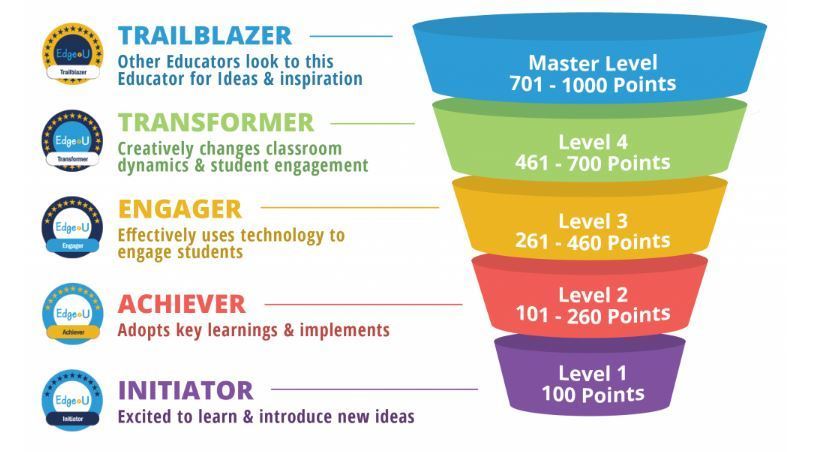 Felicity Teachers Earn Tech Badges!
Kathy Frye
Monday, May 21, 2018
The EdgeU Badges Program is a gamified professional development program that champions learner choice, personal professional learning, and social learning/growing within a school district. It was designed by our grant partner, Forward Edge as a supplemental professional development program for teachers. EdgeU Badges will help our teachers learn how to implement technology tools for learning in their classroom. EdgeU Badges was rolled out during the middle of the 2017-2018 school year and at this point we have about 75% of our staff involved in the program.
Badges represent specific classroom-oriented tasks and accomplishments that focus on increasing teacher effectiveness with integrating technology, developing student-driven activities, engaging all learners, and creating opportunities for collaboration, assessment, and achievement. Since we are a partner district with Forward Edge there is no cost for our teachers to participate in this program. We will be sharing feedback with Forward Edge to help them adjust the program as needed. Other districts have stated that they would love for their teachers to participate in this program. Since we are testing the program, Felicity is currently the only district participating in the EdgeU Badges Program.
The most popular badges have been the ones designated as Core badges such as "Chrome Champion" and "Google Drive Guru". Other popular choices have been badges which go into more detail about using Chrome to suit individual needs and some of the new Schoology-related badges.
Points are awarded when badges are earned. Participants move up levels as they earn more badges and points and the points can be turned in for CEUs or for graduate credit through Ashland University. EdgeU is a self-directed learning experience. It is available when our teachers have time for professional learning and it allows them to learn at their own pace.
Our district has been selected to share a presentation on the success of the EdgeU Badges Program at the Ohio School Boards Association Capital Conference in November 2018. We will be presenting this information to representatives from districts throughout the state of Ohio. We are very fortunate to have the EdgeU Badges program as a supplemental professional development program for the teachers of Felicity-Franklin Local Schools!