Felicity FFA Hosts 62nd Annual Banquet
Kyra Davidson, Felicity-Franklin FFA Reporter
Thursday, June 07, 2018
On May 14, 2018, Felicity-Franklin FFA hosted their 62nd annual chapter banquet and silent auction. FFA members attended the banquet in anticipation of receiving awards and at the end, hearing who this year's officers are. Students received awards for participation in CDEs from the chapter to state level, as well as for SAE proficiencies and agriscience projects. Members who competed at the national level were also recognized. Active FFA members received awards as "Outstanding Students" and were ranked by their participation in activities throughout the year.
Over 340 people attended, including FFA members, parents, members of the Alumni and Supporters, last year's Ohio FFA president, State Representative Doug Green, school staff and administration, and more. Attendees could participate in the silent auction, which provided funding for senior scholarships. This year's seniors received their scholarships at the chapter banquet and were also part of a slideshow which showcased each senior and allowed them to thank their supporters.
Three supporters of the Felicity-Franklin FFA became Honorary Members at Monday's banquet. This is the highest award an individual chapter can bestow upon a person who is not an FFA member.
At the end of the banquet, retiring president Erin Jennings gave her retiring address just before announcing the officers for this year. The banquet was a success in every aspect, and the chapter can't wait to see what this year holds!
The newly-installed chapter officers smile on stage. From left to right: Bailey Lowe, president; Madison Baird, secretary; Landen Tull, student advisor; Jared Hamilton, sentinel; Joey Glassmeyer, vice president; Luke Jennings, treasurer; and Kyra Davidson, reporter.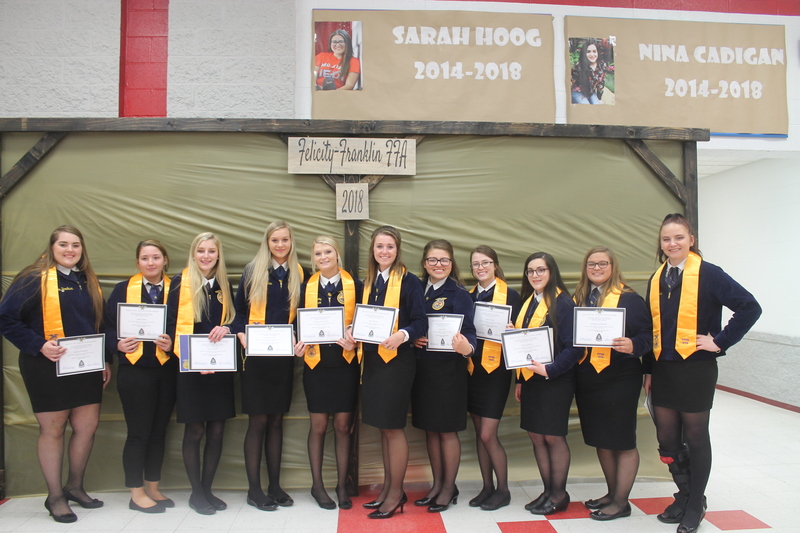 11 seniors received scholarships from the Alumni and Supporters, totaling $6200. From left to right: Kortnie Bradburn, Jaime Moore, Kaitlyn Sharp, Madison Winter, Charlena Spaulding, Erin Jennings, Sarah Hoog, Haley Cooper, Nina Cadigan, Kolbie Brandenburg, and Alexis Barger.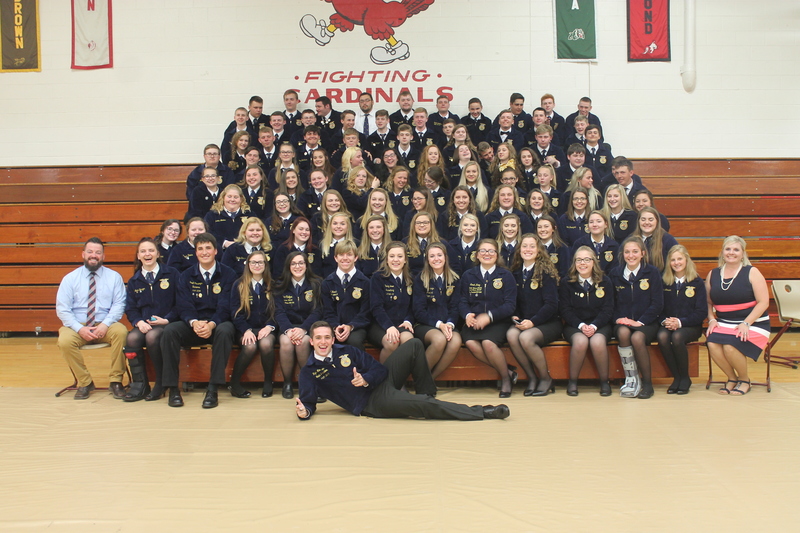 FFA members who attended the banquet fill the bleachers with advisors Joe Broadwell and Holly Jennings to the left and right respectively and 2017-2018 Ohio FFA president Ryan A. Matthews lying in the front.