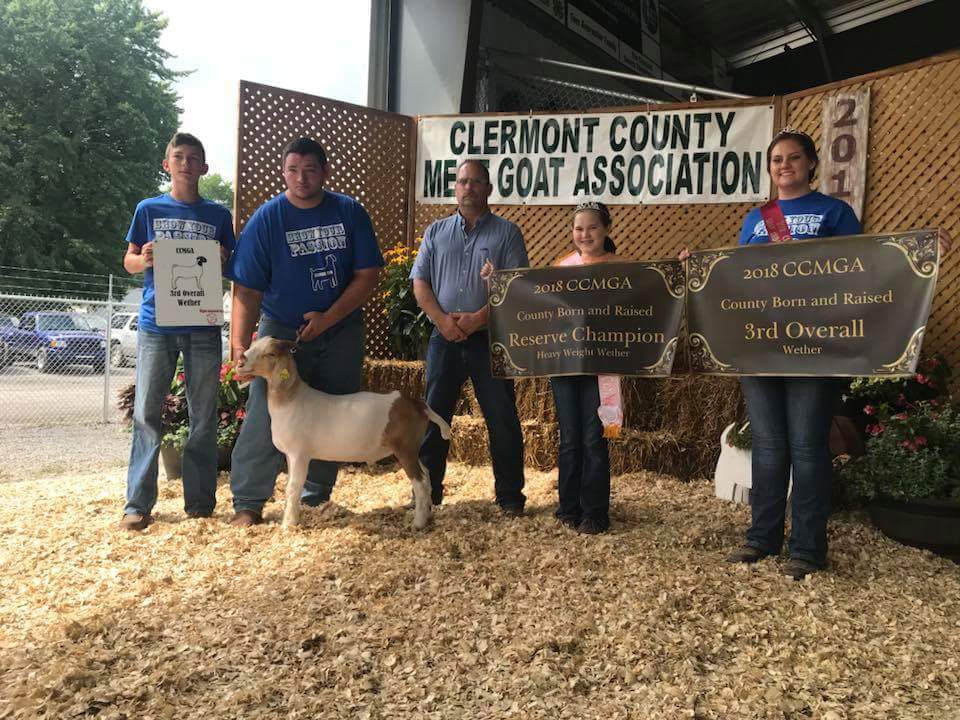 Felicity-Franklin FFA at the Clermont County Fair
Kyra Davidson, Felicity-Franklin FFA Reporter
Wednesday, August 08, 2018
Throughout the week of July 22 to 28, many Felicity-Franklin FFA members attended the fair to show several species of animals, compete in the Skillathon, run for fair royalty, and work in Felicity FFA's first-ever t-shirt booth at the Clermont County Fair. 2018 graduate and former FFA reporter Kolbie Brandenburg was named Sheep Representative in the royalty contest. Fellow graduate and 2017-18 FFA president Erin Jennings also succeeded in the run for royalty when she became the 2018 Fair Queen.
Several FFA members, from grades 8-12, showed cattle at this year's Clermont County Fair. Many of these members exhibited class winners, including graduate Erin Jennings, junior Mallory Taulbee, and freshmen Garrett Taulbee, Luke Jennings, Emma Laubach, and Wyatt McElfresh. Luke Jennings showed the Grand Champion Breeding Heifer, Reserve Champion County Born & Raised Breeding Heifer, 4th Overall County Born & Raised Feeder Steer, 5th Overall Feeder Steer, and 5th Overall Market Steer, and was named Grand Champion Beef Showman. Mallory Taulbee won Grand Champion Feeder Steer and Grand Champion County Born & Raised Steer. Garrett Taulbee showed the Reserve Champion Feeder Heifer and 3rd Overall County Born & Raised Feeder Heifer. Emma Laubach had the Reserve Champion Feeder Steer and 3rd Overall County Born & Raised Feeder Steer. Finally, Wyatt McElfresh showed the Reserve Champion Market Steer and 3rd Overall County Born & Raised Market Steer. Other cattle exhibitors included Chase Jarman, Clayton Lindsey, Maggie Mahaffey, Connor Ninichuck, Mikie O'Dell, Alex Simmermon, and Ethan Simmermon.
Goats were another common species to show among Felicity FFA members, where many were class winners and showmanship class winners. Alisha Boone showed the 3rd Overall Market Wether and Reserve Champion County Born & Raised Market Wether, won her showmanship class, and was Champion Skillathon Participant and Champion Outstanding Exhibitor. Olivia Taylor showed the 5th Overall County Born & Raised Doe. Clayton Lindsey showed the Champion Rate of Gain animal and 3rd Overall County Born & Raised Wether, which was raised by fellow FFA member Steven Jones. Harlie Brandenburg was the 3rd Overall Goat Showman, showed a class winner, and won her showmanship class. Kolbie Brandenburg had the Grand Champion Market Wether, Reserve Champion Market Wether, Grand Champion Junior Doe, won her showmanship class, and was the Reserve Champion Goat Showman. Kolbie also won Champion Sheep Showman and her showmanship class with a class winner. Other goat showmen included Clayton Falgner, Emilee Falgner, Whitney Hauserman, Katie Janson, Steven Jones, Makayla Lindsey, and Maggie Mahaffey.
In the swine show, Luke Jennings was named Champion Outstanding Exhibitor and Champion Skillathon Participant and showed the 5th Overall Market Barrow. Steven Jones had the Champion Barrow Rate of Gain. Mallory Taulbee was the Champion Swine Showman, won her showmanship class, and exhibited the 3rd Overall Market Barrow. In addition, Chloe Taulbee and Erin Jennings won their respective showmanship classes. Swine exhibitors also included Alisha Boone, Luke Dunaway, Emma Laubach, Garrett Taulbee, and Olivia Taylor.
Poultry exhibitors included Madison Baird, Colton Stamper, and Madison Winter. Baird was named the Champion Intermediate Poultry Outstanding Exhibitor and had a class winner. Winter showed the Champion Goose and Overall Champion Waterfowl. She also succeeded in the rabbit barn with the Reserve Champion Californian and was Champion Rabbit Showman.
In the Showman of Showmen contest, three Felicity-Franklin FFA members competed among three species. Luke Jennings won 2nd place as representative for beef, Mallory Taulbee was 3rd place as representative from swine, and Harlie Brandenburg placed 4th as a representative for goats.
General project displays by FFA members included Agriscience Fair posters by Kyra Davidson, Alisha Boone & Trinity Evans, Seth Roehm & Braden Blackburn, Joseph Glassmeyer & Jared Hamilton, Landen Tull, Macey Donovan, Kiersten Chandler & Sara Doane, and Madison Baird & Reagan Lowe. Taylor McElfresh displayed her woodworking project and vegetable projects included Wyatt Crozier, Carson Crozier and Logan Moore.
All in all, each FFA member who showed this year proved Felicity FFA to be the home of many extraordinary showmen.
Image 1 Caption: Clayton Lindsey (second from left) showed the 3rd Overall County Born & Raised Wether, raised by fellow FFA member Steven Jones (far left).
Image 2 Caption: On the far right, Sheep Representative Kolbie Brandenburg shows her breeding ewe.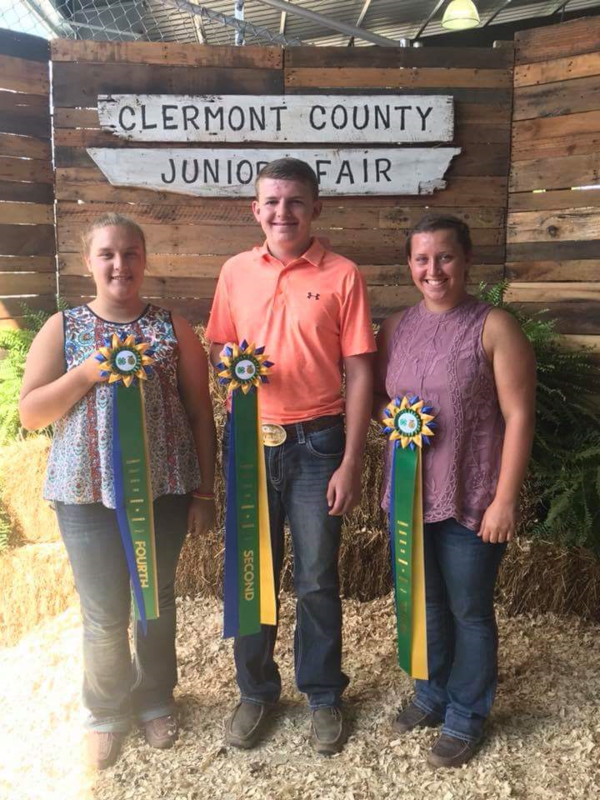 Image 3 Caption: Left to right: Showman of showmen competitors Harlie Brandenburg (4th place), Luke Jennings (2nd place), and Mallory Taulbee (3rd place) pose with their ribbons.