Holly Jennings Honored as Nationwide "Golden Owl" Finalist
Bob Walker
Monday, January 14, 2019
A sincere thank you to Nationwide's Paul and Anna Hall, Heather Utter (Ohio Farm Bureau), Kolesen McCoy (Ohio FFA President), and Bailey Lowe (Felicity-Franklin FFA President) for helping us honor and recognize Mrs. Holly Jennings with the "Golden Owl" finalist award.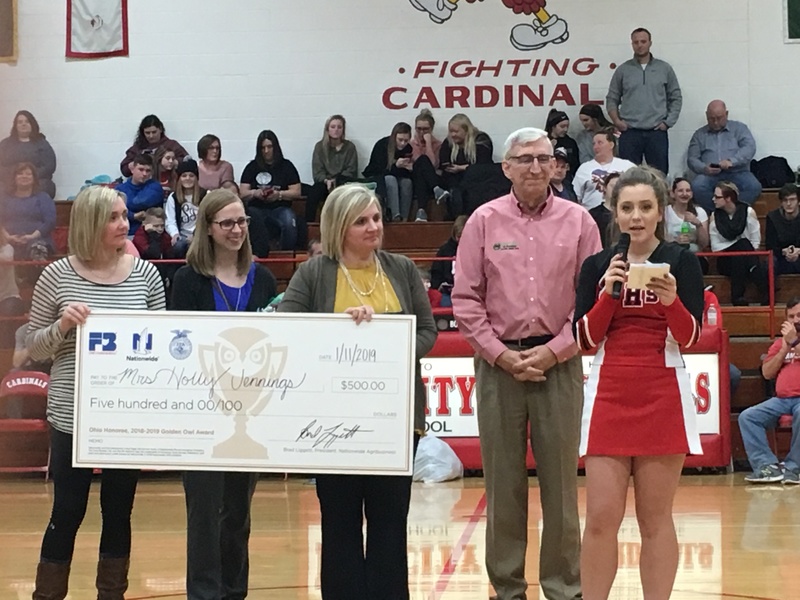 Nationwide, the Ohio Farm Bureau, and the Ohio & Iowa State FFA associations have collaborated to create this special award to honor top Agriculture teachers. Nationwide received over 425 nominations representing 153 teachers from all over Ohio. Not surprisingly, Holly was one of the top nomination recipients statewide. Holly was 1 of 5 top AG teachers to be selected as a finalist state-wide and receive a $500 check. Nationwide will select one Agriculture teacher from Ohio and one from Iowa to be recognized as the "Golden Owl" in each state. As our FFA President said, we are very proud of Holly and she is very deserving of this recognition.
About Mrs. Holly Jennings, FFHS AG Teacher:
Currently in her 18th year of teaching, Holly Jennings has been the Felicity Franklin Agriculture Educator and FFA Advisor for the past 10 years. Before starting her ag ed career at Felicity, she also taught agriculture at Lynchburg-Clay High School and was the library media specialist for both Lynchburg and Felicity. She is earned her bachelor's degree at The Ohio State University and a master's degree from the University of Dayton.
Jennings' focus with her students is on production agriculture with an emphasis in agriscience, food science and Ag business to help students be exposed to a variety of career choices and subject matter that will help them become productive citizens. She motivates her students by providing many different opportunities. Whether it is a community service project, fundraiser, contest or other trip, they truly love to be involved. Jennings' tries to tap into a variety of experiences to develop the whole student. Her goal is to get students engaged and help each other, which she believes is the best way to learn. Her passion is to involve students in competitive events as it is human nature to strive to be the best! She has seen first-hand how much students can learn through competition. For the last 10 years, the Felicity-Franklin FFA program has had so much success in getting many different students to compete and succeed! As Jennings says, "Success breeds success." Each student has unique talents, and she strives to include and develop all passions and abilities. The root of her teaching and mentorship is based on making connections with all her student's, finding their strengths and weaknesses and helping them make strides towards personal and career growth. She believes in team work and leading by example. Engaging all 125 members in some activity, event, or competition is her desire to take learning to the next level and beyond the student and classroom. Whether they are helping with a display board, role-playing as an ag sales customer, listening to a speech, helping weigh chickens in an Agriscience fair project or unloading boxes at the local food pantry, they all feel part of something greater than themselves and learn by doing, which is part of the FFA motto.
Success is not always measured by awards and accolades, but by more than 800 students lives she has touched over her career. Some of the program highlights under Jennings' leadership include: 3-time National Chapter finalist where Felicity FFA was named a top 10 chapter in the nation, 2 national proficiency winners, 3 top 10 National CDE teams, 4 National Agriscience Fair Champions, a National FFA Officer, 3 State FFA Officers, 2 Big E Champions, 2 Star State Winners, 11 Ohio CDE State Champions and a student/teacher trip to Costa Rica. The Felicity FFA Chapter and its' members have also won more than $50,000 in scholarships, awards and grants over the past 10 years.
Jennings also served professional organizations as the District 9 Chair for the Ohio FFA for 4 years, a delegate of the Ohio Association of Agricultural Educators and a member of the Ohio FFA Advisory Board.
She lives in southwestern Ohio with her husband Kevin and son, Luke, and daughter, Kaylee where they have a small beef operation. They enjoy showing goats, cattle and hogs at the county and state fair.