Felicity-Franklin FFA Holds 9th Annual FFA Degree Night
Kyra Davidson, Felicity-Franklin FFA Reporter
Friday, March 01, 2019
On Thursday, February 21, 2019, the Felicity-Franklin FFA hosted its 9th annual FFA Degree Night and awarded greenhand and chapter degrees to first and second year members. Following the degree ceremonies, the chapter awarded participants of the Science Fair Spectacular, a science fair hosted by the FFA for fifth through twelfth grade students. Over 219 guests attended the ceremonies.
44 members received their Greenhand FFA Degree, which is awarded to first-year members who have met all requirements, including having satisfactory plans for a Supervised Agricultural Experience. 29 members were awarded the Chapter FFA Degree, which is earned by second-year members meeting the requirements.
During the Science Fair Spectacular Ceremony, the 29 participants in the science fair were recognized for their hard work and achievements. 16 participants will be moving on to compete in the district science fair in March, including 18 fifth-grade students, five from sixth-grade, one seventh-grader, and one student in eighth grade who will also be competing in the FFA Agriscience Fair.
All guests received free food catered by Lee's Chicken and enjoyed fun games during dinner hosted by two brave FFA members. Six members also presented the FFA Creed and developed their public speaking skills.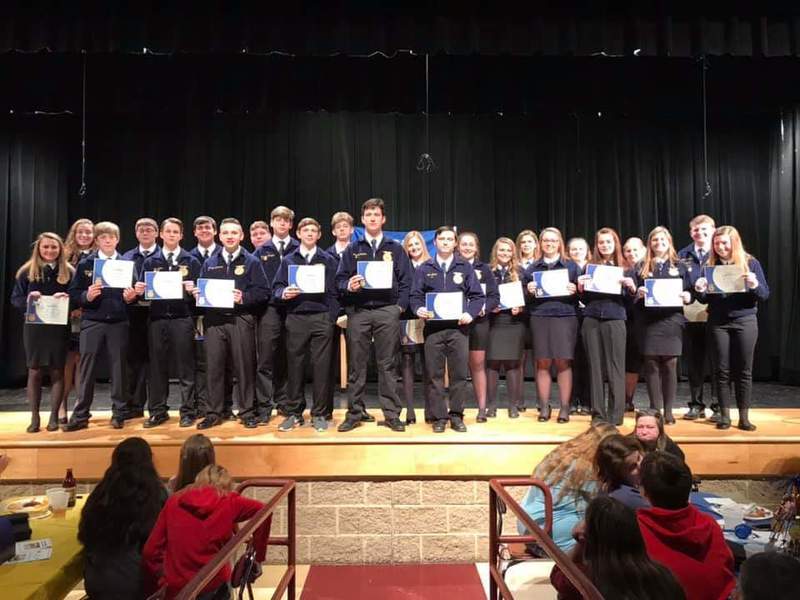 Chapter degree recipients pose for a picture with their chapter degree certificates.