Felicity FFA Hosts Third Annual Farm-To-Table Breakfast
Kyra Davidson, Felicity-Franklin FFA Reporter
Friday, March 01, 2019
On Saturday, February 23, 2019, the Felicity-Franklin FFA hosted the third annual Farm-To-Table Breakfast in conjunction with the Clermont County Farm Bureau. The free event served locally-produced food, such as sausage, ham, bacon, eggs, berries, maple syrup and more raised by FFA members, their families, and other local producers.
Over 100 community members attended the breakfast, which also featured a program by the chapter and the Clermont County Farm Bureau. Felicity-Franklin FFA President Bailey Lowe practiced giving an extemporaneous speech, meaning she had 30 minutes to research a randomly selected topic and write a speech on it. FFA Treasurer Luke Jennings also delivered his prepared speech on the topic of growth hormones. Both speakers will be competing in the state-level Public Speaking Leadership Development Event and have each placed first in their divisions at the district level.
Felicity-Franklin FFA Student Advisor Landen Tull spoke to guests about the Agriscience Fair that many FFA members compete in at both the state and national level. Agriscience boards were on display for visitors to see. Clermont County Farm Bureau representative Connie Taggart spoke to guests about what the Farm Bureau does and encouraged guests to become engaged in the local Farm Bureau.
Overall, the third annual Farm-To-Table Breakfast engaged over 100 community members and highlighted many of the local agricultural products available to the community.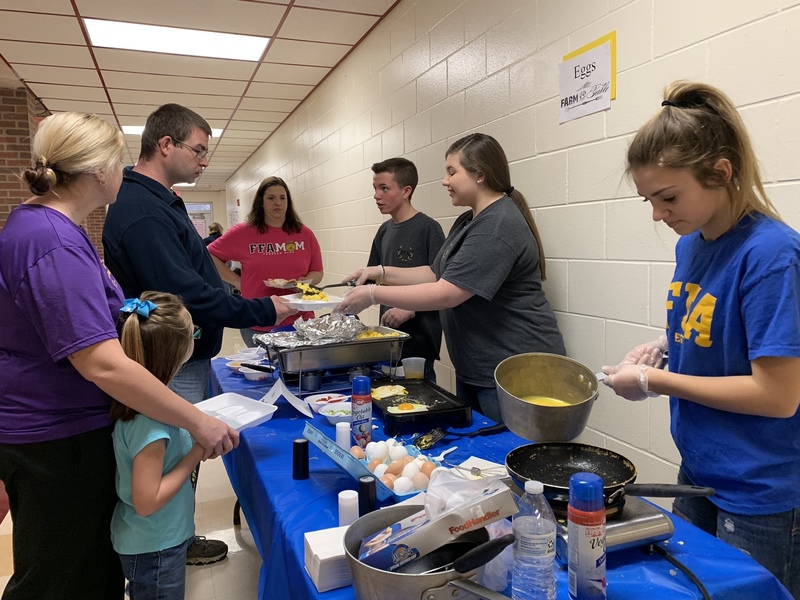 Sophomore FFA member Madison Carnahan serves locally-produced eggs to community members. She helped to serve over 100 guests.