During the 2019 Ohio FFA Convention, Felicity-Franklin FFA members were recognized for their hard work in agriscience, career development events, proficiency awards, state degrees, and more.
17 FFA members from grades 8-12 competed in the Ohio FFA Agriscience Fair with 11 agriculturally-focused science experiments. Three of these projects placed first and will submit to the National Agriscience Fair for a chance to compete nationally. These members are Joey Glassmeyer & Jared Hamilton (their fourth state win), Alyssa Myers & Lola Proffitt, and Audrey Pinger & Landen Tull.
Three more agriscience projects placed second, including Emily Hardewig & Emma Robertson, Luke Jennings, and Olivia Taylor.
Eight FFA members competed in nine proficiency award areas, which allow members to showcase their learning and growth in an area of agricultural experiences. Two members placed first: Bailey Lowe in Agricultural Education and Joey Glassmeyer in Agriscience Research – Integrated Systems. These members will submit to the national competition.
Two members placed second, including Sarah Hoog in Agricultural Education and Kyra Davidson in Agricultural Communications. Finally, five members received awards for third place in the state, including Jared Hamilton in Agriscience Research – Integrated Systems, Landen Tull in Agriscience Research – Plant Systems, Wyatt Crozier in Diversified Agricultural Production, Steven Jones in Goat Production, and Sarah Hoog in Home & Community Development.
In Career Development Events (CDEs), Felicity-Franklin FFA had three champion teams! This includes Agricultural Sales, which included the first place individual, Grain Merchandising, and Greenhand Quiz, which also included the first place individual as well as four others in the top 10 out of over 2,000 members. The Agricultural Sales team will compete at National Convention in October. The chapter also received second place in four CDEs, which were Farm Business Management, Milk Quality and Products, Novice Parliamentary Procedure, and Poultry Management. Three of the four teams will compete at the Big E in September.
Three members competed at Convention in the Agricultural Mechanics & Engineering CDE, which required them to create a bench with a focus on their welding skills. The team had the highest score for their welding and bench and placed third overall, receiving the chapter's first banner for the CDE.
Three Felicity-Franklin FFA members received their state degree, the highest honor the Ohio FFA Association can bestow upon its members. These members are juniors Mallory Taulbee and Olivia Taylor and graduate Kaitlyn Sharp.
Felicity-Franklin FFA was named a Top 10 Chapter in Ohio and in the three divisions of Growing Leaders, Building Communities, and Strengthening Agriculture. Members interviewed to compete to be the top chapter in these areas and the Building Communities presenters Luke Jennings and Bailey Lowe represented the chapter to be named Top Chapter in Building Communities. They will submit to compete nationally.
Finally, the Felicity-Franklin drumline consisting of Madison Baird, Luke Dunaway, Chloe Quatkemeyer, and Brayden Sponcil were the talent show champions! They plan to apply for National FFA Talent.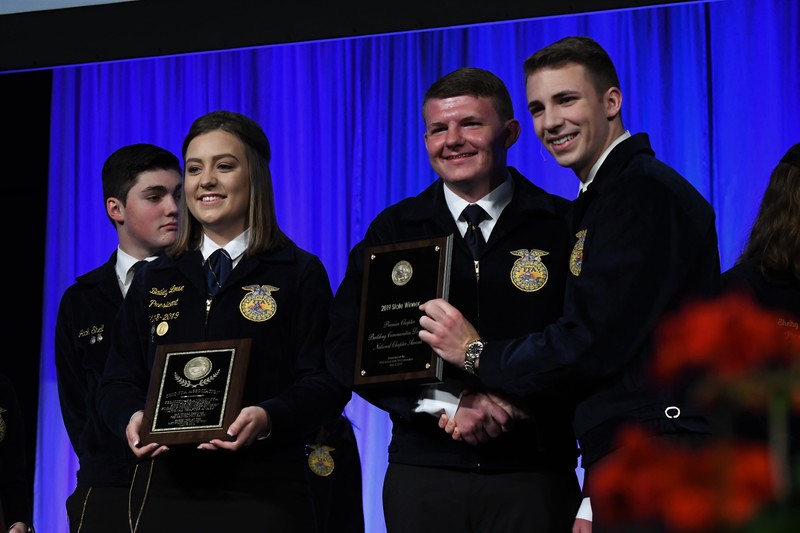 Bailey Lowe (left) and Luke Jennings receive the award for Top Chapter in Building Communities on stage during the 91st Ohio FFA Convention.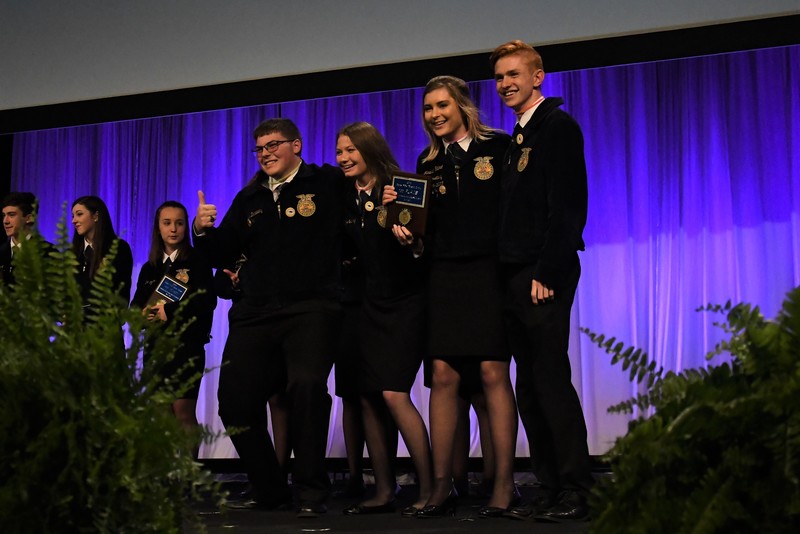 Drumline members (left to right) Luke Dunaway, Chloe Quatkemeyer, Madison Baird, and Brayden Sponcil receive their award for Ohio FFA Talent Show Champions.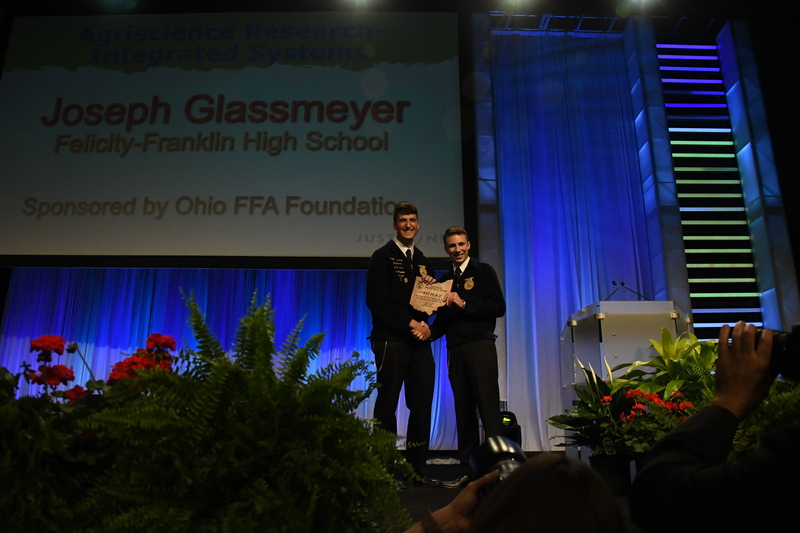 Joey Glassmeyer (left) accepts his first place award in the proficiency area of Agriscience Research – Integrated Systems.